Most recently completed project: my Quick-to-Knit Target cardigan, finished as part of a knit-along starting on January 1st. As you can see from this, it is quite quick to knit – at least by my standards!
Paired here with my 1940s hand-sewn Simplicity 2624 skirt: and when I say hand-sewn, I mean that every single stitch, including the top-stitching, was set by hand. You really get to hate waistbands… so long and so unforgivingly straight….
The cardigan is knitted from a 1950s pattern on Bex's blog, although there are a few fitting issues.

Unusually, the vintage pattern sizes given don't actually go small enough for me – I didn't think this would matter, but I and others who went for a size up in the hopes that it would just give a loosely-fitting cardigan found that we didn't get the result anticipated 🙁
In fact, the cardigan is both too wide and too long


although as I have a swayback issue anyway (see the skirt) this may not be entirely the fault of the sizing. But the waist of the cardigan is too low for me, while the neck shaping actually starts too high (straining the top button) and there's a bulge of spare fabric on either side which tends to droop in an unfortunate manner.
Looking at the adjustments between pattern sizes as given on the pattern, I ought to have shortened it by half an inch and decreased the bust by two inches. I already had to un-knit both sleeves from the cap down to decrease their length by an inch each – but again, that's a problem that everybody seemed to have, many of them more acutely than I. (At least one knitter omitted the 3″ ribbed cuffs altogether in order to get the right sleeve length!)
The skirt suffered from the opposite problem, but that was due to my carelessness; I bought the pattern to fit my waist without noticing that I was a bit more 'wasp-waisted' than 1940s patterns allowed for (oddly enough the 1960s patterns, which one thinks of as boyish and shapeless, changed to use a bust-hip-waist ratio that fits mine exactly) and had to steal extra half-moon segments out of the seam allowances at the hips to get it to fit at all. If I had only read the pattern measurements before tracing off the pieces I could easily have made the adjustments at the pattern stage!
However, it fits nicely now and pairs very well with my high-waisted 1930s knitwear patterns (which is what this 'fitted' 1950s style is trying hard to revert to, by the looks of it…)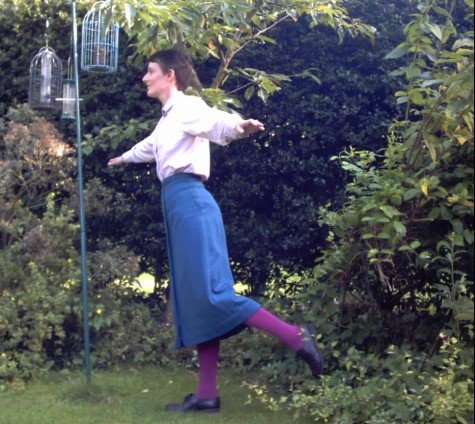 The fold at the front is actually a false fly; the skirt fastens with hooks and eyes up the side. The whole ensemble is very recycled. The cardigan is made from a single large scrap ball of blue acrylic that I saved from being thrown away, eked out with half a dozen small scraps of the shiny garnet red wool, while the skirt was cut out from the panels of a size 20 elasticated blue twill skirt that I got out of the rag heap at the local charity shop. In fact, because the original had more, smaller panels than my new pattern, I had a great deal of difficulty fitting the pattern pieces in and had to piece together the lower corners, godet-fashion 🙂