850 of you who are fans of our Facebook page already know (thanks to my poorly composed iphone pics) about my recent pattern-hunting roadtrips around southern Indiana and Illinois, where I picked up some awesome vintage buttons still on their original cards.
I could sum up everything I know about buttons with the phrase "Ooh, I love them. Can I have some more please?" so I asked veritable button-expert (buttspert? no…that won't do) Marin from Vintage Necessities to give me the lowdown.
Marin has been collecting buttons for over a decade and is a member of the National Button Society (where I imagine they congregate at an abandoned pool to swim laughing through enormous piles of buttons like Scrooge McDuck).
She's also tremendously nice and an amazing resource if you want to find out a bit more about certain buttons you own or need help tracking down a particular kind of button. You can contact Marian via email ( vintagenecessitiesATcomcast.net) or via her etsy shop.
Now it's over to Marin to learn a little more about my buttons. Stay tuned at the end for an opportunity to win $40 worth of buttons from Marin's shop!
~~~
Katherine, you have found an interesting selection of buttons from the 1930s and 1940's. During the war, many buttons were made of plastic. Metal was not readily available for such a frivolous use. This was also they heyday of fun celluloid and Bakelite buttons. Many patriotic themes as well as red, white, and blue buttons were sold.
Did you know that many Bakelite buttons that are now black and butterscotch were originally blue and white but have "aged"? Luckily, the red still retains its magnificent color. Many other colors of Bakelite buttons and jewelry originally were different colors than we see today.
These appear to be celluloid. How nice to have a date on the card! Celluloid is one of the oldest man made plastics. Buttons circa 1880 can be found in this material, although with a very different look: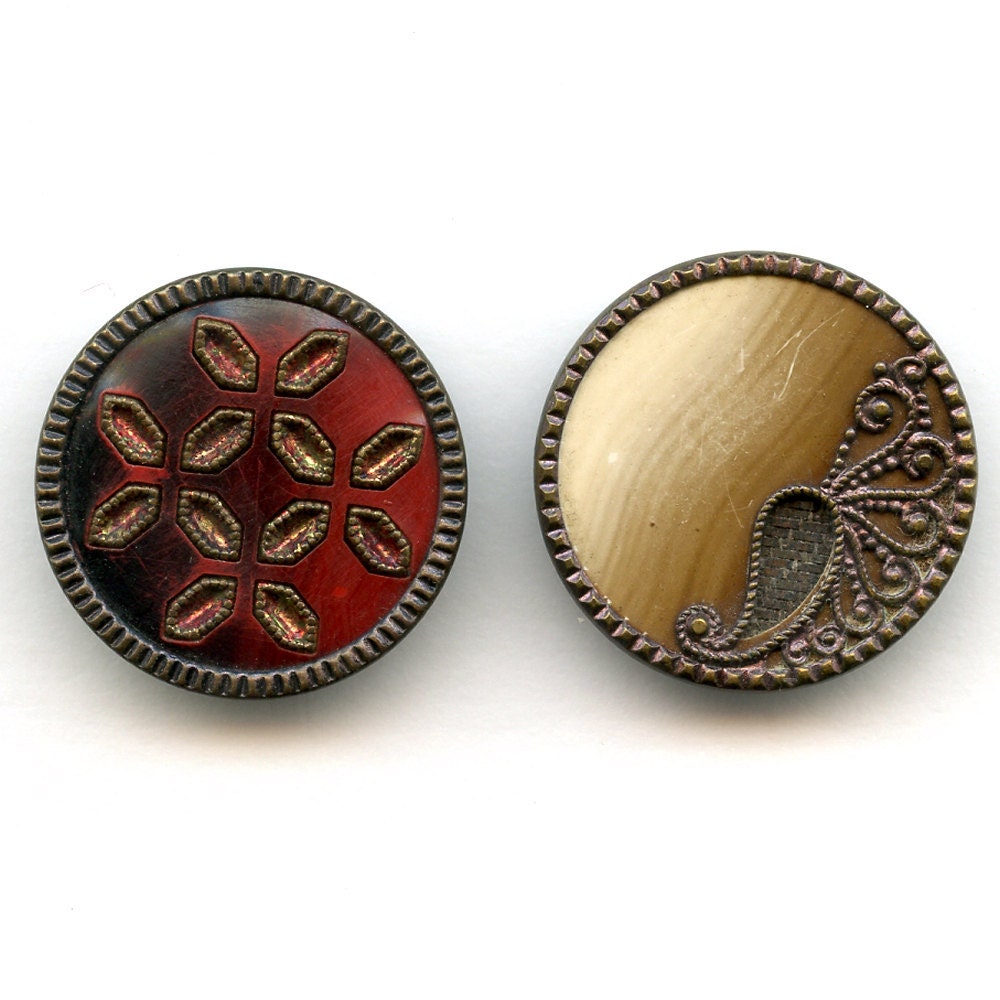 Buckles and jewelry were also manufactured using celluloid: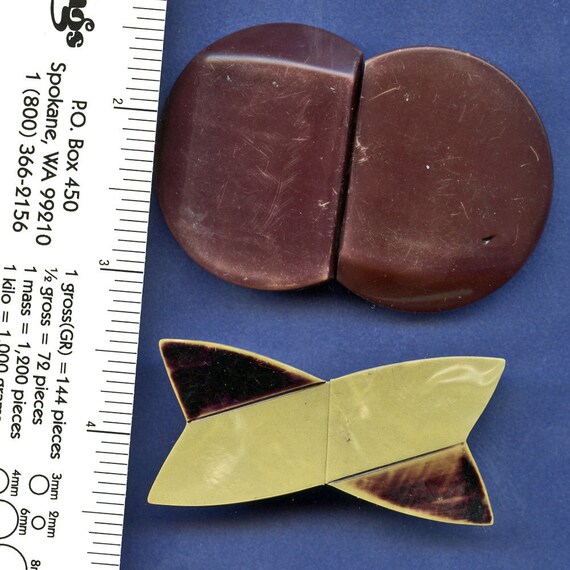 Millions of celluloid buttons have been made, many of them in the 1920's and 1930's. Celluloid is very flammable. Think celluloid film reels that melted while showing a movie! It's one of my favorite materials as so many whimsical buttons were produced in a variety of designs and techniques.
These lovelies are not actually buttons, but trim, known as "montees". They were made to decorate garments. It's not surprising these were made in Czecho-Slovokia. Czechoslovakia has long been known for its magnificent work both in jewelry and buttons. They have also been a supplier of rhinestones, so both the glass base and the rhinestones were produced there
Most Art Deco glass buttons were made in Czechoslovakia. Later, many glass buttons were manufactured in Germany. Here is an example of typical vintage Czech glass buttons: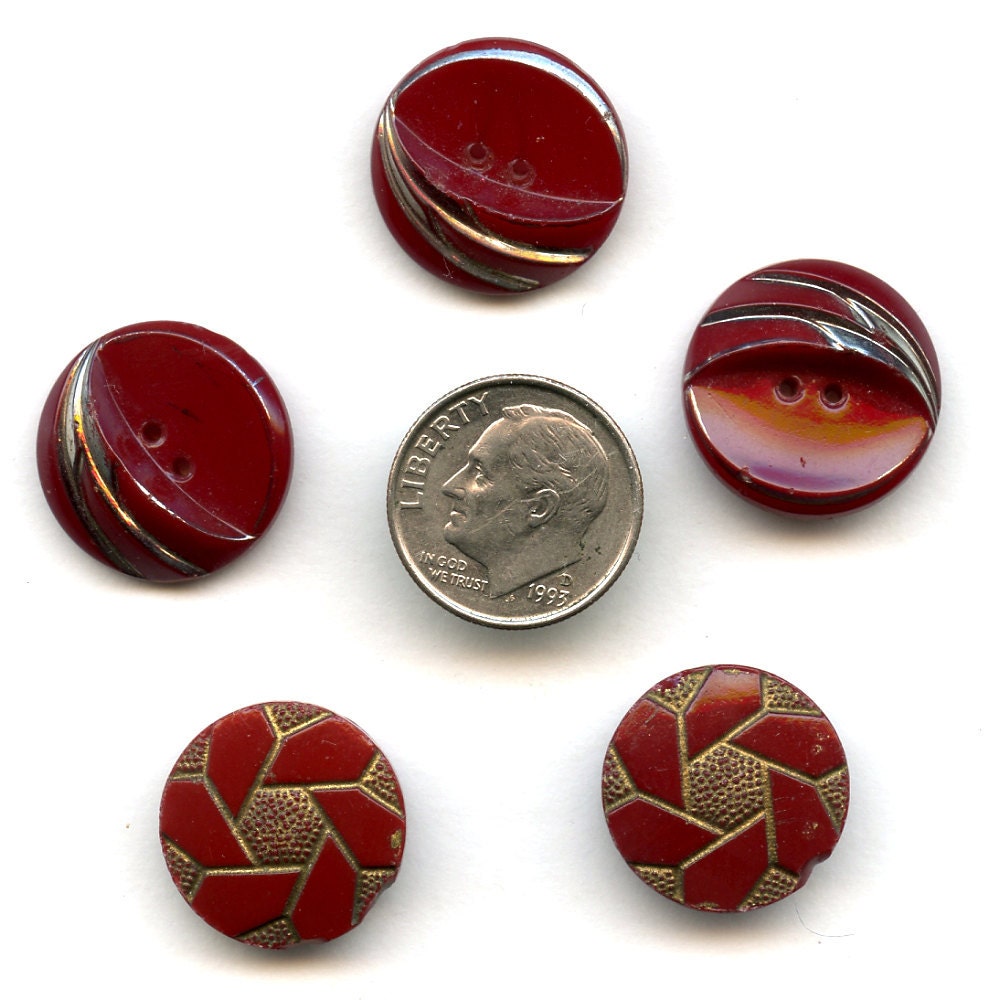 Awesome, thanks Marin! Now let's have a giveaway!
Here's a chance to get your hands on some truly gorgeous vintage buttons with $40 to spend on buttons in Marin's shop, Vintage Necessities!
To enter, head over to Vintage Necessities on Etsy and find the cutest buttons. Pop back over here and leave me a comment letting me know which ones you want most and why.
The winner will be chosen on Friday, July 27th to win $40 worth of buttons from Vintage Necessities. That's a whole lot of buttons…my button jar is exceedingly jealous!
Good luck, and happy button hunting!