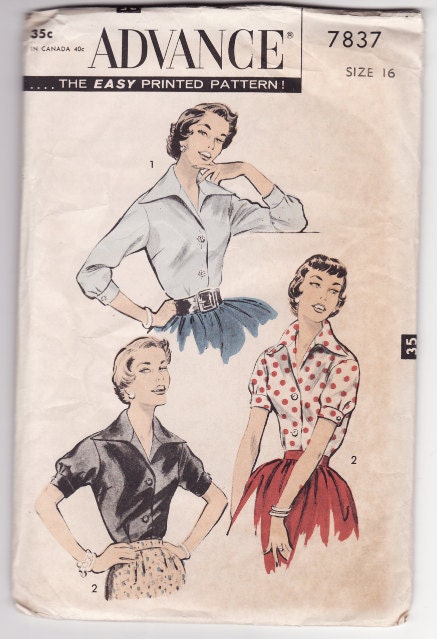 Pattern Description (Advance 7837):
Front-button shirtwaist blouse has deep V-neckline and spread wing collar. Armhole has deep shoulder and is slightly deeper at underarm. Darts at bust and torso. Version 1 has 3/4 length sleeve with soft folds, finished with wide buttoned cuff. Version 2 has short sleeve, also with soft folds and buttoned cuff. Your choice of fabric makes the blouse…for daytime or late-day wear.
Pattern Sizing:
sz 14/34B
What did you particularly like or dislike about the pattern?
the wing collar with the classic shirtwaist look, and the sleeves are adorable.
Fabric Used:
liberty of london tana lawn "mike" from purl soho
Pattern alterations or any design changes you made:
none.  i just re-drew the sizing based on my moulage.
Conclusion:
it's obviously retro and still a classic, i bet it is great for all kinds of fabric.  this one will be sticking around.  the construction was simple and breezy, with a fold-over facing and easy-to-attach collar.
gotta go get ready for my date with archie goodwin now….
full post and story of "nero wolfe" reference at puu's door of time.