Happy New Year!  I just finished up what is probably my favorite garment that I have made so far, a 49er style jacket, and I thought I'd share!
I have a vintage 49er, but it's old, and sad, and moth eaten. So, I made a new one using this pattern.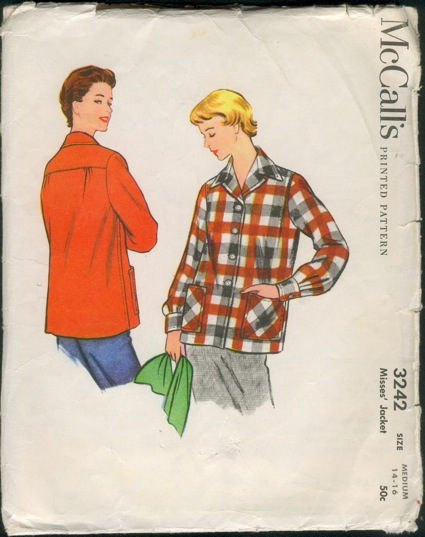 Here is what I sewed up….
Materials:
Thrifted wool blend- $2.00 for 1 1/2 yards 60″ wide
Thread from stash
Vintage mother of pearl buttons from Flea Market- $2.50?
Fusible interfacing- Barf!
This pattern was absolutely perfect- when I first received it, I compared the pieces to my real 49er, and I can say that I wouldn't be surprised to learn that someone at McCall's had simply taken a 49er apart and used that as the pattern for this jacket. It is a near exact copy (there is a slight size difference in the pockets).
This was quite a project for me, as I have never sewed with plaid before, and I am just experienced enough to know that I need to try to match the plaid without really knowing how. So, I spent all of my free time for two or three days just prepping and cutting the fabric to the best of my ability. Overall, it came out pretty durn well, and I am really happy with how the side seams and sleeve seams match up.
I am also pretty pleased with the bodice front symmetry, and pocket and cuff symmetry that I somehow managed on this first go with plaid. Now that I've patted myself on the back a few times, the only place I wish I could have matched better is the front facings, as I forgot they would always be rolled out at the top. Well, I had only a yard and a half of this fabric in a 60″ width, so I had to make due. I really love this jacket, so I'm not going to (figuratively, yuk yuk) pick it apart, and I say that about the facings only as a reminder to help in the making of other 49er knock offs.
In a nutshell, my advice on working with plaids (now that I've done it a whole one time, y'all) is to take your time and cut them carefully, and if you have a limited amount of fabric, as I did, you will want to focus on matching the pieces in order of importance- the front bodice pieces first, next the back on the fold, then sleeves, pockets, etc.
From there, I followed the instructions closely (for the first time in a long time!) and hand basted EVERYTHING! I am learning that what seems like a lot of work actually saves time in the long run and obviously can lead to a more polished finished garment.
I'm glad to have a new, warm jacket- the weight on this is perfect for layering, and I'll probably have it on under my heavy wool coat tomorrow-  it's snowing right now!
More riveting ramblings on construction are at my blog, Farmhouse Garden.