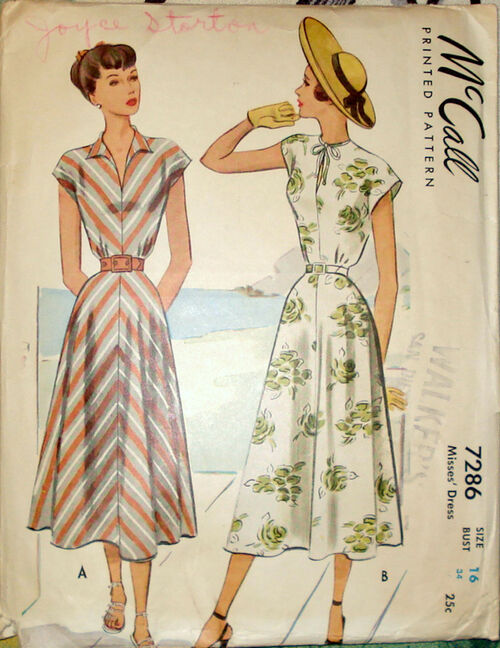 Pattern Description:
Dress with cap sleeves and shoulder pads. Sewn or purchased belt. View A with collar and v-neckline. View B with bow closure.
Pattern Sizing:
sz 12/34B
What did you particularly like or dislike about the pattern?
when i got this pattern, i was ready to try for one of the iconic (to me) bias-cut chevron bodices, so the timing was right. also, i love the flare of the bias-cut skirt. there's nothing else that flows like it.
Fabric Used:
liberty of london tana lawn "purple chris" from purl soho, NYC
mystery fabric "microfiber suiting" in navy from paron annex, NYC
Pattern alterations or any design changes you made:
this is not my exact pattern. my exact pattern had cuffs on the cap sleeve for more drama (which i decided i didn't like) and a higher neckline (which i didn't have enough fabric to accommodate). also, i shortened the skirt because i'm more comfortable with the shorter length. my version also has wasitline pleats instead of gathers, which i think are a fun change.
Would you sew it again? Would you recommend it to others?
although this project spent more than 6 months in "area 51" until i got all the bits and pieces taken care of, the pattern is great and this design is a great way to play with 40s fashion.
Conclusion:
great pattern, fun (not perfect) dress. it's a good day.
also, full story of the 6+ months this simple beauty spent UFO:  puu's door of time