i got some really lovely comments following my simplicity 2099 adventure (with photos of the back coming soon, i promise) asking where i got the pattern and if i knew of other ones available. and i knew exactly where these commenters were coming from–how often have you seen a great FO or WIP on a blog and just wanted it so, so badly? some patterns are easy to find copies of…others, not so much…
really, it's a question of shopping strategy. personally, i'm much too picky to shop at my local flea market or vintage shop and just hope for the best–although i do pop in occasionally. but i need to see as many options as possible all at once. especially when looking for a specific pattern.
saved Google search. configure Google to alert you every time the pattern you are looking for pops up. obviously, there can be a lot of false positives and broken hearts here.
saved eBay search. configure eBay to alert you every time a pattern with the same number as yours comes up in an auction on its site. see above about false positives and broken hearts.
but this only gets you so far. more often, my first step in a search is picclick. do you picclick? it's a great GUI for etsy and ebay searches that helps overcome, to my mind, the major hurdle of each: a limited number of items per page. picclick posts all of the results for a given search on a single page, which makes for much easier browsing. i find picclick particularly helpful when you are just trying to get a sense of the options in a particular era–for example, i love to run a general search for 1930s patterns and see what happens.

but what about when you are looking for a very specific pattern? for a general example, i can't be the only one out here who fell hard for several of the patterns featured in the Vogue New Book for Better Sewing, shown to such advantage on Gertie's New Blog for Better Sewing. i'm sure there has been a steady run on what few copies of these patterns are left since Gertie began sharing her progress with us over two years ago.
can't find the VoNBfBS "background dress"?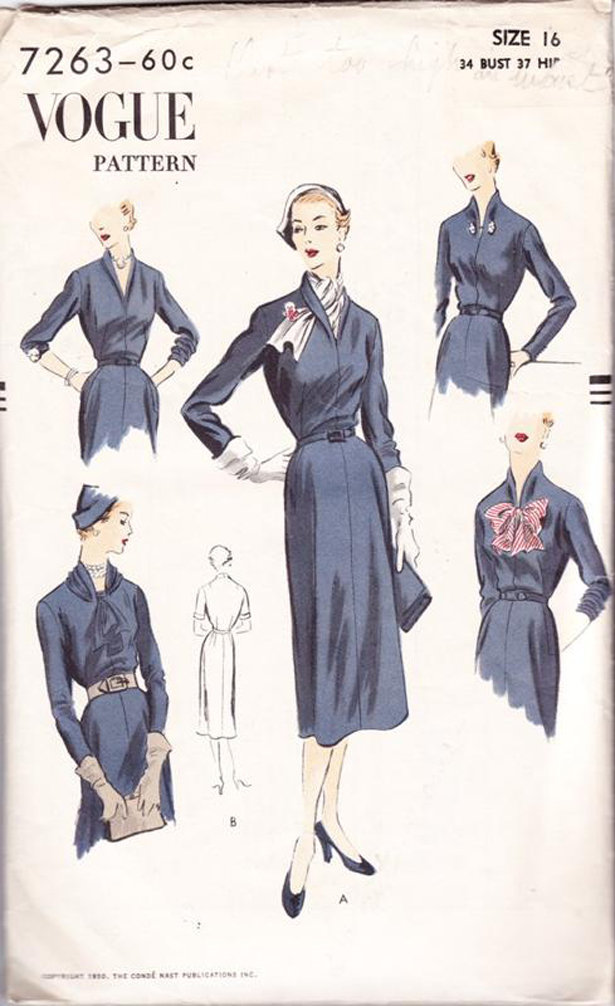 how about this one instead?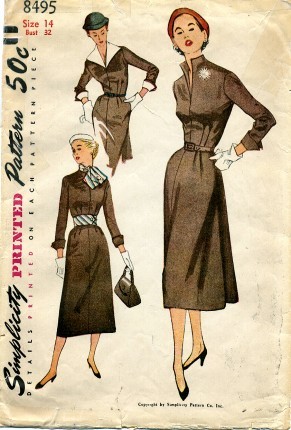 or my most recent 40s beauty, simplicty 2099: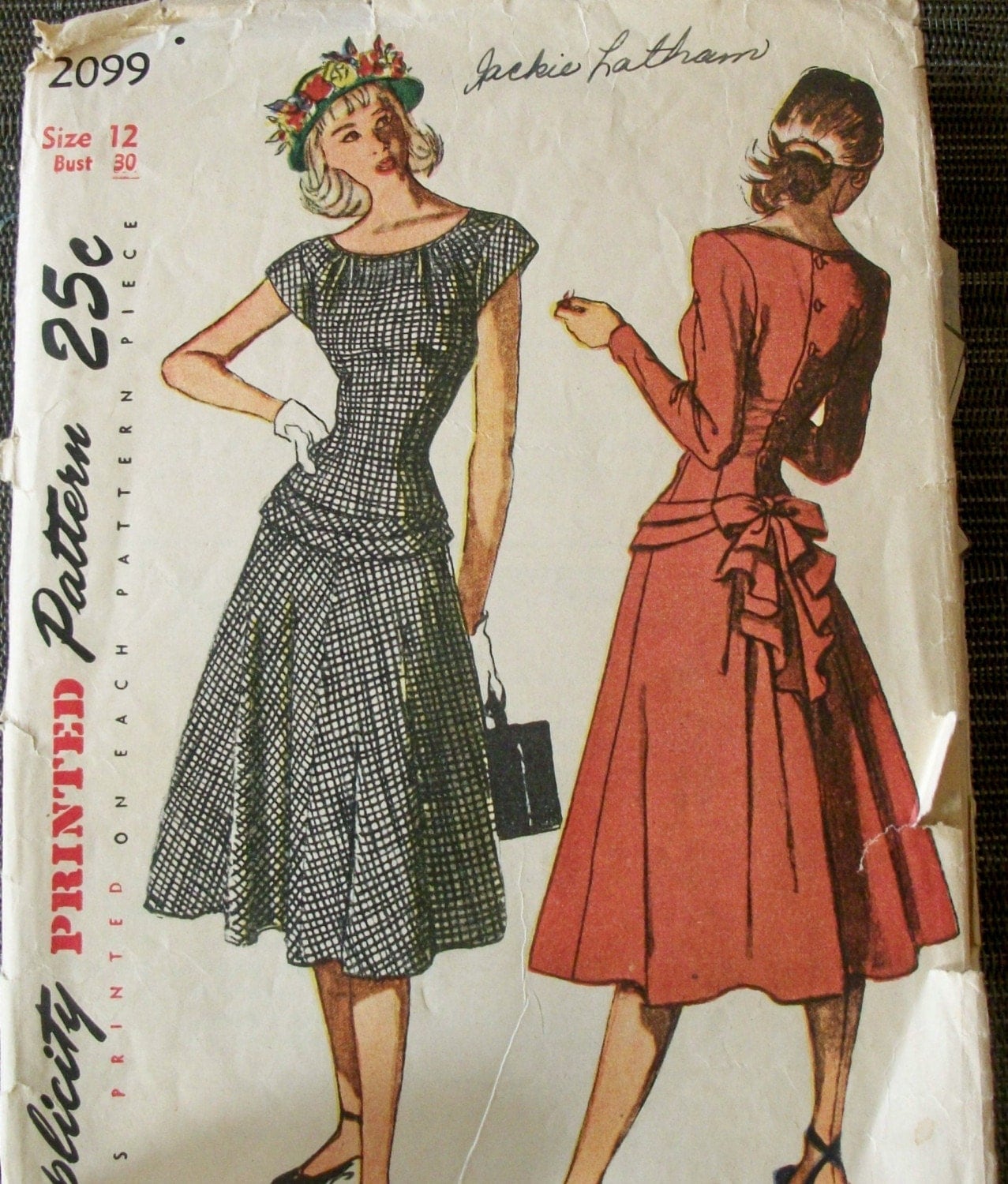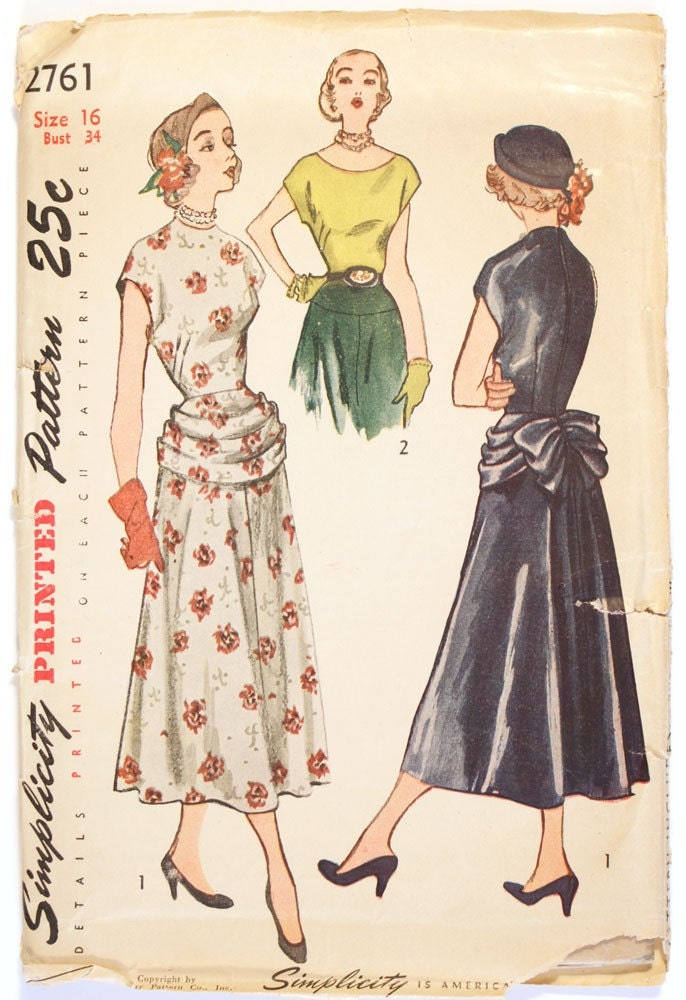 obviously, my desire to replicate patterns has also fueled (by necessity) an interest in doing some pattern drafting. there are two books in particular that i've found very accessible:
if you're going to get really into it, go ahead and try a fitting pattern or a moulage. most of the pattern drafting ideas come from a basic block, which may as well fit you from the outset. something that i've found to be really cool is the old fitting patterns from the 50s or 60s that pop up on etsy occasionally, especially if you're looking to focus on a period.
and don't forget that if you are really into a certain look, say the 1940s or 50s, most of the patterns have a near-identical shape–the building blocks to your dream pattern may already be in your collection!
cross-posted at puu's door of time