My younger sister was married at the end of September, and she asked me to be her Matron of Honor. Instead of choosing dresses for her attendants to wear, she sent us a swatch and told us to get as close to that color as we could. Can you imagine how excited I was? I posted to Sew Retro back in January when I bought this pattern.  I was also a little nervous, as it often seems that formal fabric equals slippery fabric. Also, I have a couple years of experience under my belt, but was that enough for me to make a dress I would feel really lovely in (and not embarrass my sister)?
  Well, it all turned out fine! There was nothing to fear except crazy fabric that could barely be pressed and frayed to fuzz, and a pattern with dart tucks straight out of h-e-double-hockey-sticks. I made a tea length gown for myself using Simplicity 5343.
  Yeah, it was "snowing a little down south" as my MIL said they used to say back in the day. Or, in other words, my crinoline was showing. Whatev. I won't beat myself up over that, and it's good it didn't show any more than that, as it was a last minute Franken-petticoat I made from netting from an A-line wedding slip and an old half slip.
  And, I made a dress for the baby of the same fabric- it's definitely okay to be all match-ey match-ey when it's a wedding! I used Simplicity 9191 for hers. I knew it fit, because I used it for
her Easter dress
, which still fits.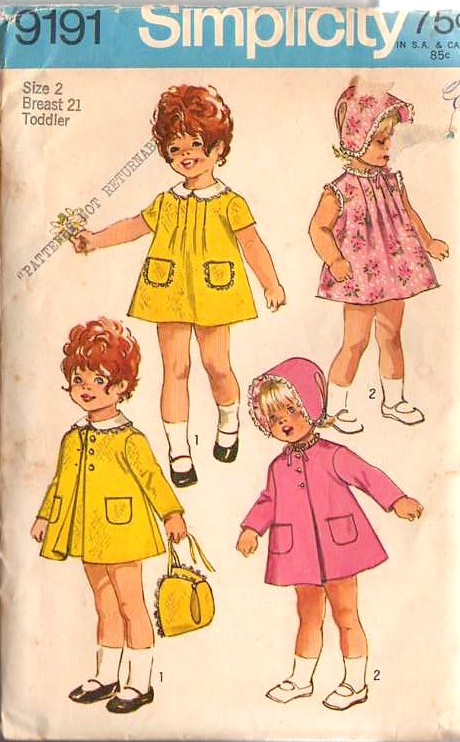 The fabric: I wouldn't say it was "from hell," but it certainly didn't come from that other place. It was a pain in the tush. It creased badly, marred easily, and it was difficult to press because of water spotting and changing color. And it was slippery. But on the upside, it cost me under $35 bucks for the fabric for these two dresses, and I still have some left. Tha's pretty sweet, right?
Adjustments: I made a size 16. I shortened the bodice by one inch and removed an inch at center front and center back at the neckline only, tapering to nothing at the waist. I have since made sense of the seam method for pattern alteration- the waist on this one was a little fudgy/short because I removed the fabric at the waist instead of over the bust. I think I've got it now, doh.
Pattern Instructions: I have gotten pretty bad about reading these at all. I did refer to them many times to figure out those tucks. A lot of good it did me! Those blasted tucks. Those tucking tucks. Shucks, those tucks were a pain. I re-tucked 4 times! This was one of the times when I was sooooooo glad I hand basted like a good girl.
So, on the instructions, I mostly winged it. Wung it. Something like that. I underlined the bodice in a tricot interfacing. This worked very well. I used the glue method Gertie blogged about hereto no ill effect. It was fast and the result was a less creased and wrinkly bodice. Actually, underlining made the fabric behave very nicely. I also lined the bodice with self fabric. I hand picked the zipper. I serged all seams, and I did a narrow hem. I wanted a deep hem, but I would have had to underline the entire skirt to hide the stitches. And I didn't do that. What I did do was mark my hemline, serge it, and turn and stitch it. Not the traditional method perhaps, but it worked out fine.
Problems: The blasted tucks. Did I mention the tucks? And the creasing. Wah wah wah! Actually, that was the biggest headache. I flew with hubby and baby to Maine for my sister's wedding, and I packed a separate, hard sided vintage suitcase for our dresses. I stuffed them with tons of tissue, and I wrote a sweet letter to TSA begging them not to wrinkle them all up. It said "Seriously! Do these look like the kind of dresses you'd smuggle drugs or weapons in?!?!" No, it didn't say that.
  What I love about it: I conquered that fabric and pattern. It was not easy, but I did it. I also practically applied my skills to save us a good deal of money. Bridesmaids dresses are often expensive and ugly. Nuff said there. I got to make and wear something special and personal to a most special and personal occasion. You've got to admit- that does rock. And I learned a ton. I don't get sweaty palms thinking about slippery fabric. I made my own cording for the waist. And underlined. Oh, and I made those little flowers on the front from scraps and pearl beads.
What I would do differently next time: sew with a fabric I can press and steam like we're on a train to hell.
  And thanks to Katherine for taking on the site. You are doing a wonderful job, and I'm so glad I still get my daily fix!