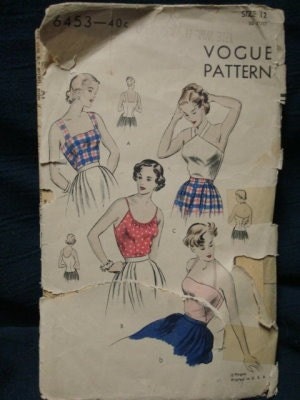 when i spotted this pattern on etsy i felt like i had discovered treasure. these little tops patterns from the 50s are like candy for me–i'm definitely trying to hunt them down. the reason is simple: i'm a really stingy fabric cutter. i'll add CB seams where there should be folds, i'll shorten skirts, i'll eliminate facings, all in the hopes of having a bit of fabric left over to play with. this top pattern became my playground. all summer long, when i wanted something cute, quick and satisfying i'd pull out a scrap and settle on a version and go to work.
construction:
a few tricks became standard: no facings, just contrast bias tape. finish all interior edges with bias tape. on the halter versions, (views B, C and D) i added sew-in interfacing, bra cups and a lining.
i had some button fun on view C:
what i learned…
i had naively assumed, not quite understanding the importance of wearing ease differences in different patterns, that i could re-draw this too-small pattern using my V8615 french dart bodice. and i could–on the front. the back, however, was much too big, with almost 4″ of wearing ease i needed to fold out later. i was able to adapt but as you can see in my button shot, the results are wearable but not perfect. i would say this became a theme for my summer sewing, crystallized during the august sit-n-sew in NYC with susan khalje and kenneth king, when i finally made a moulage and sloper.
still…
| | |
| --- | --- |
| | |
| View C | View C |
| | |
| View A | View B |
not bad, right?
additional details cross-posted on puu's door of time