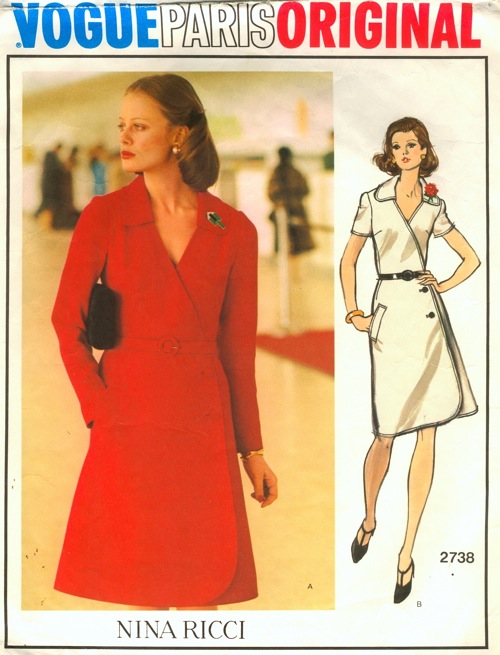 Pattern Description:
Vogue 2738 Paris Original, 1972 Nina Ricci Coat Dress – Fitted A-line dress, mid-knee length, has asymmetrical front-buttoned closing, shaped collar, welt pocket and topstitch trim. (pattern purchased from Stitches & Loops)
Pattern Sizing:
sz 12/ 34B. i modified the front bust darts using the Sandra Betzina method outlined in "Fast Fit," i.e., slashing and overlapping the dart.
Did it look like the photo/drawing on the pattern envelope once you were done sewing with it?
close enough that i was pleased. it certainly resembles the photo of the garment more than the fashion drawing (so what else is new) and i was slightly disappointed at how pronounced and low-cut the v-aspect ultimately looked. i could not, for example, wear this without something under it. ultimately, however, i was pleased.
Were the instructions easy to follow?
surprisingly for a vogue paris pattern, the instructions were largely good. other experience with these types of patterns has shown me that the patterns are gorgeous and, as far as i can tell, well-drafted, but that the instructions are overly complicated. in this case, the construction of the shell was straightforward and the only major deviation i took from the instructions was in the insertion of the skirt lining, which they would have you do by hand and i did as a sort of reversed facing.
What did you particularly like or dislike about the pattern?
i liked the styling of the pattern as shown on the envelope–it had a simple and clean design with a vintage vibe that was not overwhelming. i liked the asymmetry and the rounded edges on the skirt and lapels.
Fabric Used:
white (off-white) wool gabardine from NY Elegant Fabrics, NYC
printed silk lining from Mood Fabrics, NYC
Pattern alterations or any design changes you made:
i got in way over my head on this pattern, which i attempted a mere months into my sewing career. that said, the only major design change is the hard corners of the lapels, which was a necessary change after i made some serious errors in the collar construction. i actually had to run home to mommy on that one, and we sat in front of the machine beating the collar and the facings into submission.
also, i eliminated the welt pocket. too scary!
Would you sew it again? Would you recommend it to others?
would not sew again as it is so distinctive, so complicated, and there are other projects to be tackled. but i would not hesitate to recommend it to a fellow coat-dress addict like myself.
Conclusion:
it's not an advanced pattern per se, but it did take more sewing chops than i had at the time. i ended up having to underline the gabardine, which i did inexpertly with muslin (it's more bunchy than i would prefer, although not in a way anyone that didn't make it would notice). i did teach myself some basic handstitching, like the catch-stitch, so that i could do some more advanced tailoring like taping the roll line by hand (thank you, roberta carr and smartflix!). i did use a fusible on the undercollar, which may have been a mistake.
positives: i piped the lining, always a favorite technique of mine, and these are the first sleeves in my sewing career that went in perfectly. i painstakingly gathered the ease in the cap and then steamed it over a tailor's ham to shrink the ease. voila! perfect sleeves.
overall i do enjoy this dress, flaws and all. in the few months i have been wearing it (although i finished it over the summer) it has become one of my go-to winter outfits on days i am looking for something warm, low-maintenance and yet still professional.
i think i learned a lot from this dress, and surprisingly, the most important lesson is that even though i was a beginning seamstress at the time, it was important for me to tackle this complicated project because i was passionate about it and it enabled me to learn a lot of things, not the least of which was perseverance!