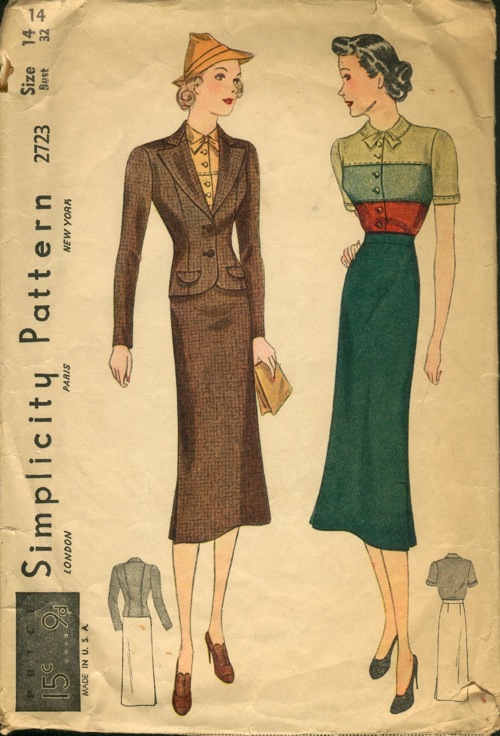 Pattern Description:
"Slim Fit" suit with three pieces: skirt, blouse and blazer. Blouse has some Art Deco styling possibilities.

Pattern Sizing:
34 Bust

Did it look like the photo/drawing on the pattern envelope once you were done sewing with it?
yes!
What did you particularly like or dislike about the pattern?
Love the antique styling suggested by the slimmer, smaller lapels. This jacket definitely looks and feels vintage even given the alterations I made to it–more on those below.
Fabric Used:
brown "denim" from Jo-Ann's sale; silk lining from stash (Truemart Discount Fabrics/NYC)
hair canvas from NY Elegant Fabrics
Pattern alterations or any design changes you made:
I made serious fitting alterations given both the historic nature of the garment–tiny waist from old-fashioned corsetry and undergarments–and because I needed to do major re-drawing of the princess seams to accommodate small bust. Again, more below.
Would you sew it again? Would you recommend it to others?
This pattern is a gem, easy and well-drafted and I haven't had any of the usual issues I have with Simplicity patterns. I'm in love. I've already cut out and begun work on a coordinating skirt and blouse.
Conclusion:
Great 1930s blazer, easy to make (only four pieces, plus the collar) and a great exercise in tailoring techniques.
But wait,
there's more…
This may be sacrilege to those in the community who participated in the Lady Grey sew-along, but I thought Gertie's sew-along tailoring instructions were not to my taste–too much happening, too complicated. Happily, I had the experience of the delightful Kenneth King and Susan Khalje to draw upon. Beginning back in August, I had an opportunity to participate in their Sit and Sew sessions at Sew Fast, Sew Easy in Manhattan. I really cannot recommend this workshop enough; it may seem like a lot of money (about $500) but I promise you they are undercharging given the amount of attention and assistance you get over the course of four days. Our class was particularly small, and I was by far the least experienced (and also the only one immediately interested in tailoring) so I got what was basically a private demonstration from Kenneth on the tailoring process he outlines in his book "The Tailored Jacket." Additionally, we spent the first day or so each working on a variety of muslins for fitting and patternwork, so Susan and Kenneth first helped me fit my muslin and then helped me re-draw the pattern and understand each fitting change made. Now I have an adaptable, perfectly fitted princess-line jacket pattern that I can use for just about anything. The original pattern was collarless, for an eventual Chanel attempt, but for this one I simply re-drew the Simplicity pattern pieces and then used my fitted shell as a guide to create the new pattern.
Ultimately, this jacket was just a practice run of Kenneth's tailoring technique described in "The Tailored Jacket," so I kept the materials simple and focused on understanding his process. It involves a lot of hand sewing and a lot of pattern marking, and it seems completely absurd, but using this technique he claims to be able to make a tailored jacket, start-to-finish, in about a day.
And you know what? Having tried it, I believe him. All of the hand-sewing and tacking and other work–the lining is inserted by hand, not machine, and there is no bagging involved–actually does save time and effort. Yes, it took me several weeks, but I got 75% of the jacket done in one six-hour work session on a weekend while I watched a DVD of Andrew Davies' "Bleak House" adaptation. The rest of the work sessions, about an hour or so each, ranged over the course of several weeks. Honestly, the thing that really inspired me to finish was the astonishing speed and diligence of the NewVintageLady in her tailored jacket (really, kudos on that–it is stunning).
And now I can laugh in the face of padstitching and get back to work on this beauty: