Did anyone else love the movie Shag? My sisters and I used to watch it over and over when we were young teens. I have always loved the music, the dancing, and the clothing, which was all represented very well (the film is set in the 60s, but was released in '89). Don't put it on in expecting a great plot and well written dialogue, though.
Well, a couple of weeks ago I was browsing vintage sewing patterns, as I have been known to do every day for an hour, and I came across this summer top pattern that looks just like a top Melaina (Bridget Fonda) wears in the movie.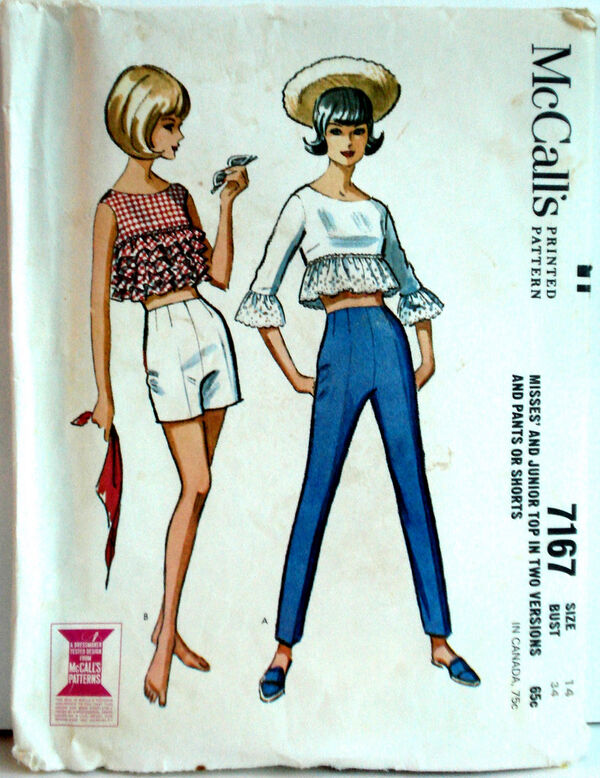 Courtesy of the Vintage Pattern Wiki
Image Vogue.com
Of course at first I wanted to buy the pattern- any excuse, you know? But then I got to thinking and realized I could make this without that pattern. My current vintage pattern collection is nothing to scoff at, and I knew I had to have something I could use as a foundation for this simple top. Enter Simplicity 6500, a simple, button back, darted bikini top.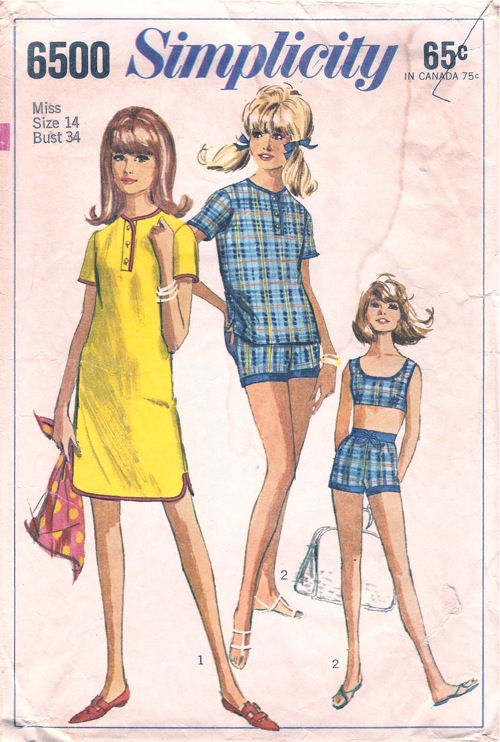 Love that Vintage Pattern Wiki
Once I rustled up my pattern, I traced it out (I use soil separator paper for pattern tracing) leaving plenty of extra room to extend the bottom. The I estimated how much length I would need to add for the desired, midriff length and drew in the added length (about 3″). I extended the bottom darts and made the waist larger by adding fabric in at the side seams and making the waist darts smaller. Then I cut, using what little fabric I had left from this piece to make ruffles and bias tape.
 From there, it all came together without much ado, the hardest part being getting the ruffles pinned across the bodice evenly and distributed somewhat evenly. When I make the next version of this in check, I will draw guide lines before I stitch, pinning the darts shut first. And, I will remember to interface the button placket. You would think that I would remember this sort of thing by now. All in all, the wearable muslin is kinda cute though….
In order for this blouse to be 60s and something that I would be comfortable wearing, it has to go with appropriately high waisted shorts. These are the bottoms from the bathing suit I finished up a couple of weeks ago, and I have plans to make a few more pairs of shorts in varying lengths. What is that thing about "the best laid plans of mice and men" again?
I also need to make the neckline a little higher in front and more of a bateau shape. Still, overall I'm pleased. It wasn't that long ago I wouldn't have dreamed I could sew anything up without a real pattern. Heck, it wasn't that long ago I couldn't sew at all. Look at me now, ma! Top o' tha worlddddddd……..
Also posted at my blog, Farmhouse Garden.