Just recently finished this dress (getting the bulk of it done over Memorial Day weekend), based on the 1970s Simplicity 7011 pattern.
The construction was pretty simple, except for the portions where I altered the border print placement. A great summer dress, I think, and I got compliments on it all day!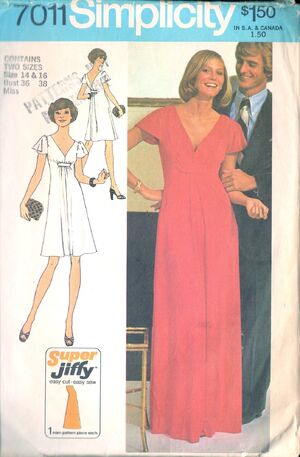 The pattern works out quite well for maternity wear, but I am also glad that I'll enjoy wearing it after the bump is replaced by a baby. 🙂
Pictures and more details on the construction and alterations I made (minimal) can be found at my blog.
And just to make sure I'm giving enough information on these blogposts at We Sew Retro, please let me know if you want more information included here before I direct you to my blog. I want to make sure you enjoy the read here, but also don't feel I'm waxing overly detailed either.
Thanks!
-Seeks