My Favorite Halloween Costumes
By Tam Francis
I have wonderful memories of my mom making costumes for us as kids and I have carried on the tradition. As we approach the Halloween season, I thought I'd share some of my all time fave sewing projects starting with one of my favorite classic movies: The Wizard of OZ!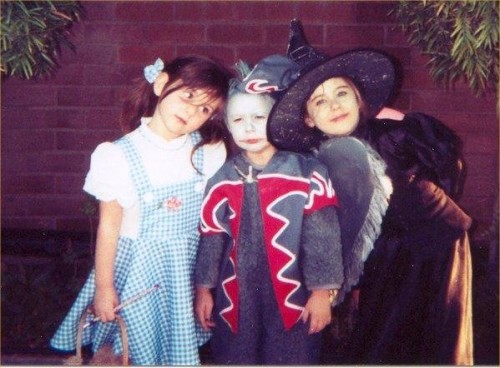 Of course, wearing vintage on a regular basis, I play dress-up more than most. As my children get older they have taken charge of their dressing up and their costumes have become less elaborate, so they don't need mom's help. I thought I would share some of my favorite Halloween Homemade Costumes. The above picture is my two kids and my friend's daughter (Dorothy's costume was store bought).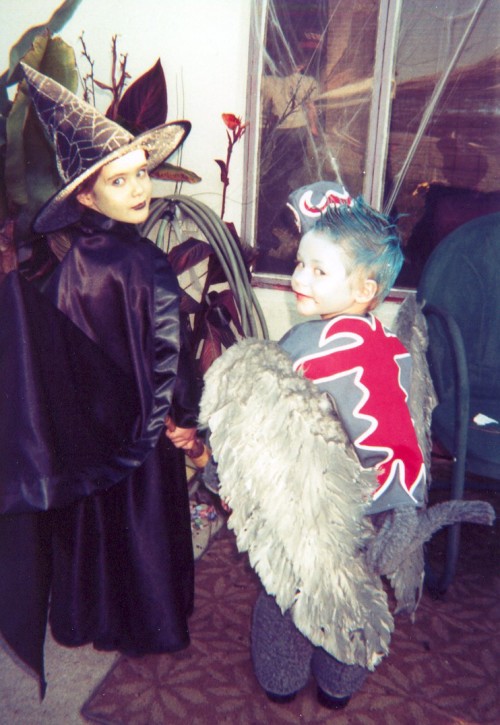 This was one of my favorite years. We had agreed to go with a Wizard of Oz theme, which may not be original in itself, but how many flying monkeys have you seen? I'm not sure why it thrilled me that my daughter wanted to be the wicked witch, but it was fun to make her costume and the fact that she thought outside the box not wanting to be Dorothy or Glenda filled me with glee. The Flying Monkey, was a horse of another color.
At the time there were NO patterns for flying monkey costumes. Perhaps there are now, but when I made his costume I used a standard one-piece body suit (like the Butterick pattern) which I made in furry gray fabric. The jacket was pure fabrication. This was BEFORE DVDs were popular and we had The Wizard of Oz on video. I paused, and rewound and paused and rewound and hand drew the monkey jacket design. And talk about a pain in the emerald city, all the piping was crazy to sew. Of course I could have painted it on or done something less elaborate, but my mother's voice is forever in my head telling me to do it right.
A couple years later I convinced my husband to do a couples costume and hoodwinked him to be one of the guys from the Brush and Wash from Wizard of Oz (you know the part where they're in Emerald City and getting spruced up to see the Wizard). I had always loved the color green and the cute 40's gals who did the hair trim! I fabricated my husbands hat and my collar and sleeve cuffs. I used a 1940s pattern for the dress body, but fit it a tiny bit long in the waist for me. Although it still worked, it scrunched up a tiny bit at the waist. It was amazing to swing dance in though!
I've done some other crazy costumes through the years like the Red Queen from Alice in Wonderland (hand painted skirt–sheesh), and a vintage Marie Antionette. For more check out my blog
::
Do you have a favorite Halloween costume you've made?