The only kind of New Year's resolutions I make are sewing resolutions, because those are the only ones worth keeping.  I'm not talking about grand sweeping statements like "I'm not going to buy any more fabric" or "No more vintage patterns! I mean it!" because those are utterly silly and will be broken by the third week of January anyway. But I have some goals that I think will help me grow and stretch in the coming year.
1. Actually wear my vintage dresses sometimes. I have this amazing me-made wardrobe (and about fifteen pairs of wonderful shoes) and yet all I ever wear are jeans, T shirts, and the same ratty sneakers I've owned since 2008. My dresses only get to come out and play for church on Sundays, and that's 3 hours out of 168. Can you ladies give me some pointers on integrating my vintage wardrobe into my everyday life?
2. (Not really a sewing resolution but) Acquire some really nice crinoline petticoats to replace this cheap scratchy made-in-China thing I've been wearing. I'm drooling over Malco Modes, which come in a rainbow of delicious colors and several different lengths.
3. Use something beyond quilting-weight novelty cottons. Yes, I love me a good novelty print as you may have noticed. But my stash also includes: red lightweight wool suiting; red faille with a vintage-Hawaiian-postcard print; 100% linen ($2/yard on clearance) with a wonderful 50s-inspired barkcloth print; some actual vintage fabrics in pristine condition, and probably other thhigs I've forgotten. And speaking of which:
4. Make something out of silk. I actually have not one, but two lengths of gorgeous silk dupioni (one lipstick red and one shocking pink) that I've been stashing for 'someday.' But I don't think 'someday' is going to come if I sit around and wait for it – time to grab the bull by the horns, so to speak. The corollary to this resolution: Get my husband to take me somewhere where I can wear a silk vintage gown.
5. Sew this pattern: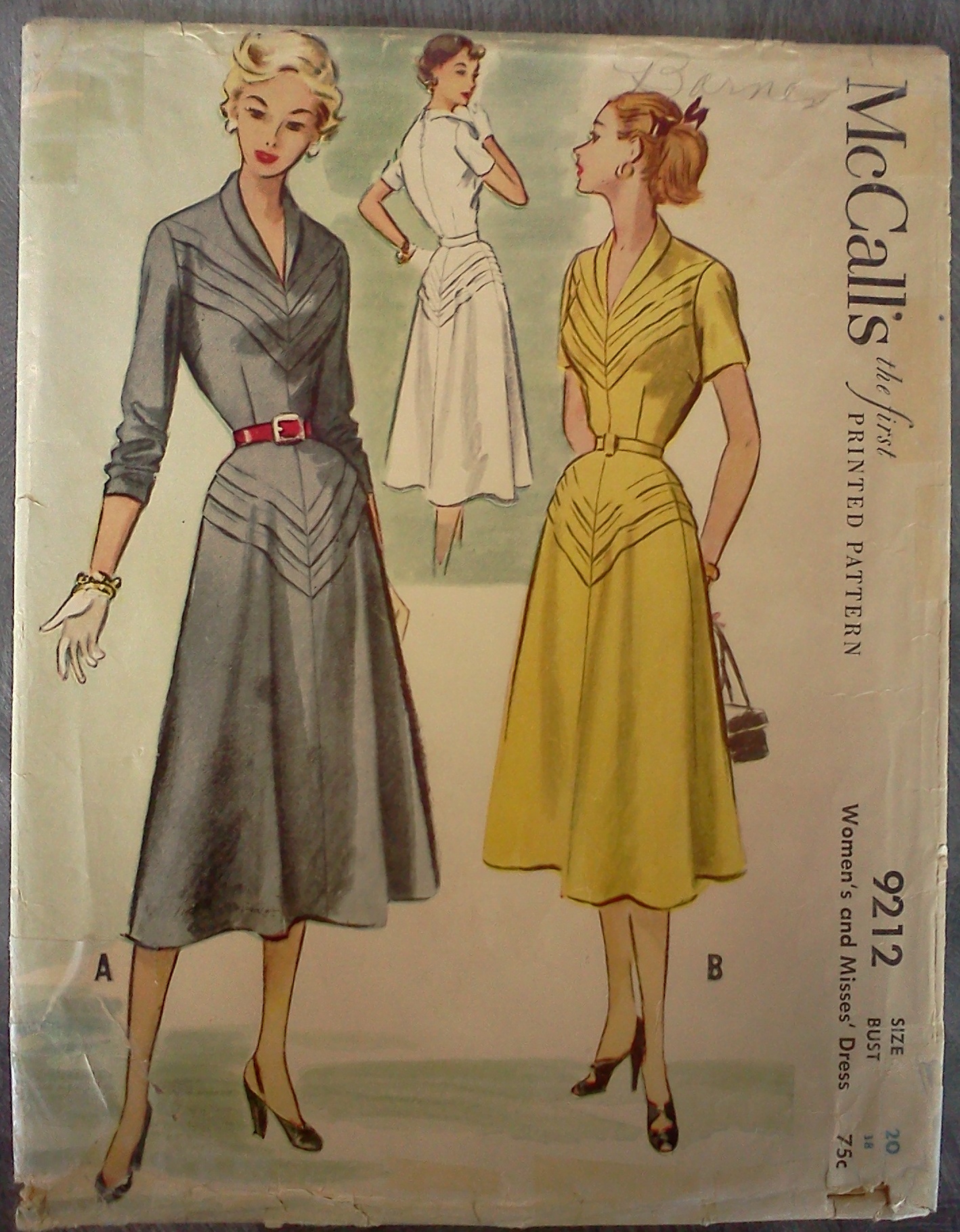 It was a gift from my mother, and a more perfect dress for Joni you couldn't hope to find, but I am having a dickens of a time finding the right fabric. I had a cotton/linen blend at one point but it wasn't right so I sent it back (bless you Fabric.com and your generous return policy). I usually use Kona for this sort of thing but I don't know. Maybe a nice sateen? And what color?
6. Be mindful in adding vintage patterns to my stash. I own enough patterns at this point that I've got all the basics covered… no, I do NOT need yet another early-Sixties shirtwaist pattern! Anything new that I bring home needs to have a new and interesting design element, like an asymmetrical pocket flap or a portrait collar or bows. Note: Any pattern  under $5 is exempt from this ruling.
7. (Probably the most difficult one of all) Stop being afraid of my figure. Have you noticed that most things I sew for myself are full-skirted shirtwaists? There's a reason for that, and that reason is my giant hips. 🙁 But Christina Hendricks is hippy too, and she looks AMAZING in all those fitted dresses they put her in on Mad Men. It probably wouldn't kill me to don a wiggle dress or a pencil skirt once in a while – I think my husband actually like it a lot!
Fellow sewists, what are your Sewing Resolutions 2013?