After my resolution post yesterday, several of you pointed out that separates might allow me to fit more vintage sewing into my decidedly non-vintage lifestyle. An idea so genius it's no wonder I didn't think of it myself. So I hauled out some fabric originally earmarked for dresses (dresses that weren't going to get sewn or worn any time soon) and whipped up a couple of blouses. I used my go-to blouse pattern, Simplicity 7896 from 1977: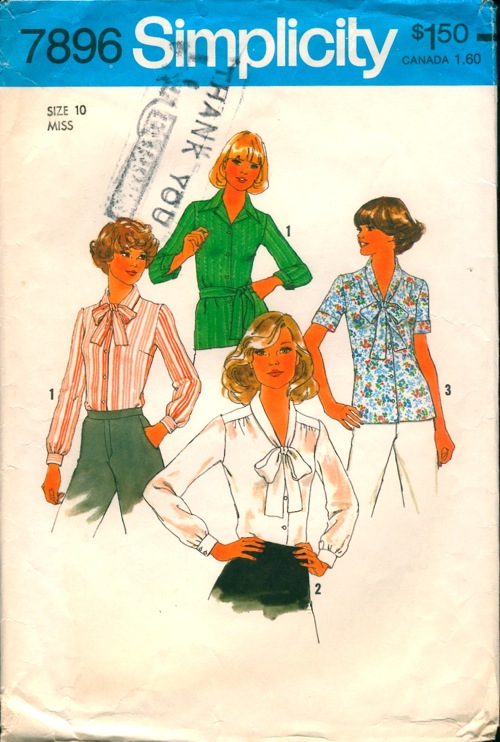 Simply by cutting the collar piece down, View 1 can work for just about any era. (I love the tie-collar version as well, it's very ModCloth.) I realized after I made them that I should have cut the sleeve caps a bit higher, for a more Forties look, I'll have to remember that for next time. (And the wide sleeve cuff would have been a no-no during the age of fabric rationing but it's my favorite kind of sleeve so I kept it in.) This pattern is SO EASY to put together – I made one blouse yesterday and the other one today.
Blouse #1 with Windham 'Feedsack' fabric (you can have my novelty quilting prints when you pry them out of my cold, dead hands)
And Blouse #2 made from Kaufman 'Betty Dear.'
I've got enough yardage left over that if I REALLY regret not making dresses, I should be able to make a skirt for a two-piece dress effect. In the meantime, these look GREAT with my thrift-store Forties-style denim trousers!