I finished this shell blouse a couple of weeks ago, and while it was pretty straightforward in construction, I decided to add some embellishment to the front by making a corded design. It was a major pain to turn the cord, as my fabric was really too heavy for this, but I persevered/ stubbornly continued on and ended up with this.
After turning the cord, I put the shell blouse on my dress form and played with the design by twisting the cord and pinning it. When I decided on the design I wanted, I pinned it all in place, checked it with a tape measure for general symmetry, and hand basted it to the blouse straight through the cord with silk thread. I then went carefully around the cord slip stitching the loops in place and tacking at the overlaps with matching thread.
I used Butterick 3286 in a size 32″ bust. I don't know what is up with this pattern, but it fits me pretty well and I am a 37″ bust. I guess it's because it's supposed to be an "overblouse," but even the darts are in the right place.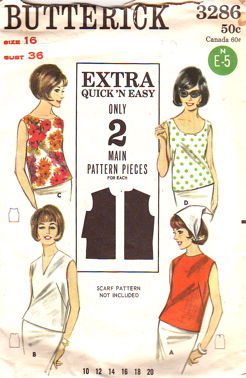 Although it is far from perfect, I really like it, and I plan to try again with a lighter weight fabric. If you are interested in trying this technique, check out the Coletterie tutorial here.
Happy Sewing! Abigail @ Farmhouse Garden