I haven't shared anything on Sew Retro since the summer, sorry about that. I have been busy sewing though. See my blog if you are interested.
Instead of posting any of the projects I have made in the meantime I am sharing my most recent pattern love with you. It's not a vintage pattern but made up in the right fabrics and the right styling it easily passes as a very retro looking pair of trousers.
I am talking about New Look 6873. The pattern envelope isn't looking too inspiring I think (as most of their patterns envelopes IMO) but I had to buy it anyway. I am always on the hunt for a good wide leg trouser pattern. No skinny jeans for this girl.
I made the shorts pattern view E first to see what the fit is like without wasting a lot of fabric. I like the little pleat on the front and the cuff detail. I also added some buttons around the waistband to attach some vintage braces I recently bought on Etsy.
I made the blouse, too by frankensteining all sorts of pieces together, adding a Peter Pan collar and some super long cuffs.
I also made a red version of the shorts as I liked the first pair so much.

And this is the full length version in a salt and pepper wool blend suiting. I again added the buttons to wear the trousers with my new favourite accessory. I also made a matching beret from some leftover fabric scraps.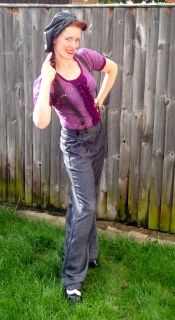 I hope you like, there are more pictures of the shorts here and of the trousers here.