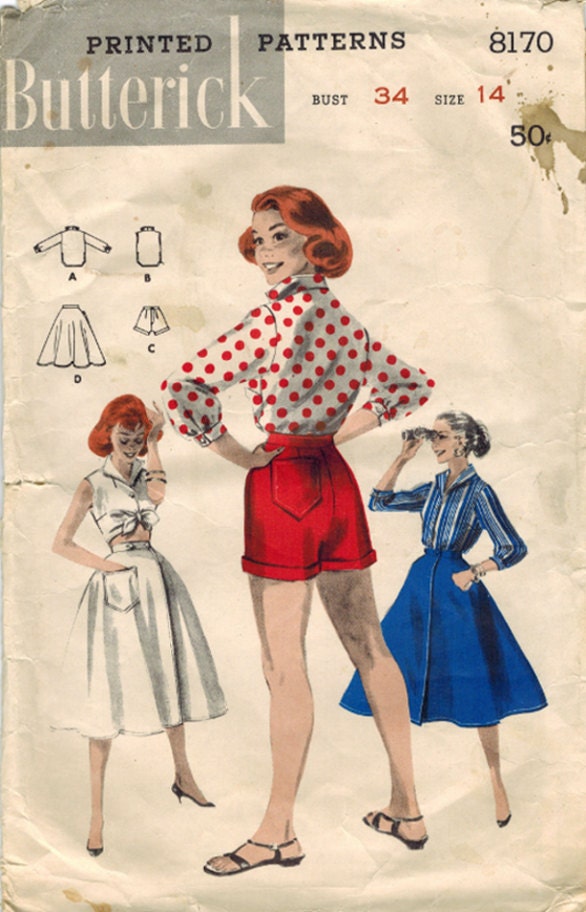 The Facts:
Fabric: mystery poly blend (twill? crepe?) from paron's annex
Pattern: butterick 8170
Year: 1950s
Notions: hem lace, snaps
Time to Complete: 1.5 hours
First Worn: April 27, 2012
Wear Again: yes, yes, yes!!
Total Price: ~$15

i originally made this as part of this week's "sew weekly" challenge–circle skirts.  this is one of those challenges where i knew immediately what i wanted to do: a circle skirt with an asymmetrical hem, like a lovely example i'd seen on cation designs. in fact, i orginally intended to pair this skirt with a blouse that was going to be my answer to last week's "childhood" challenge, but i went with a renfrew instead last week. never fear that this dashing blue lovely will be a closet orphan, however. i've already made 3 blouses that needed a blue skirt as an accent and have a 4th in the works for later this spring.  and, since this is we sew retro, never fear, all of the tops are vintage patterns.
drafting this baffled me for reasons i cannot explain–but there's no post if i don't try, so here goes. me sew crazy's fishtail tutorial was my second stop after cation, and she does a lovely job explaining the simple drafting steps to make a circle skirt into what she calls a "fishtail" circle skirt. for reasons of pattern paper, fabric width and laziness, i had no interest in a true circle skirt pattern, but wanted to use my on-the-fold circle skirt with wrap closure from butterick 8170 as my base pattern. i sat and stared at it for something like an hour last saturday night (what? so i have no life. don't judge. especially since i also had a fire in the fireplace, a homemade hazelnut fudge ice cream milk shake and a gorgeous spring rain shower to keep me company) before realizing, DUH, i could just trace the waist line of the skirt pattern, move it down along the center front seam, and re-draw the center back fold along the new angle–keeping all of the same length in the back! so the front is about 19″ and the back is 26″.
for something that had no seams, no need for a strictly measured hem, and no waistband (i'd run out of fabric), i was strangely reluctant and lazy when the time came to actually "sew" it. i turned the raw edges of skirt sides in over some steam-a-seam, to make a clean finish, sewed some pretty blue lace over the hem and some petersham ribbon over the waistline. after hemming and hawing for 3 days, i finally sat down last night (after my beloved vampire diaries was over) and attached two snaps to create the wrap closure.
cross-posted from puu's door of time.