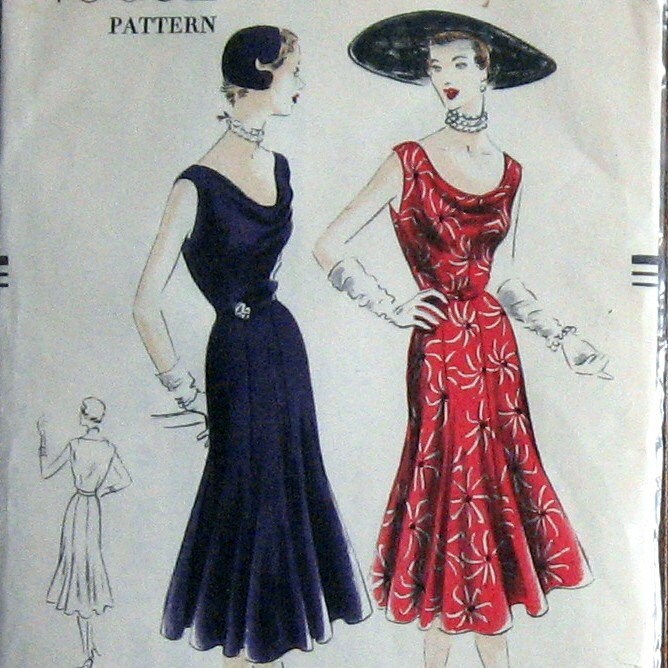 or, the "love and beauty shock" dress–as in, shock that i actually constructed something out of my favorite liberty print of all time without a disaster.
honestly, i am not even sure if that is what a cowl is supposed to look like when it is constructed and draped on a form.
Pattern Description:
bias-cut, dart-fitted bodice with cowl neckline in front and boat neckline in back. sleeve facings cut-in-one with bodice. eight-gored, flared skirt goes below knee for cocktail length.
Pattern Sizing: size 12, 30 bust
Did it look like the photo/drawing on the pattern envelope once you were done sewing with it?
very nearly. i shortened the skirt so it hit just above the knee but preserved all other details.
Were the instructions easy to follow?
no. as an early 1950s vogue pattern, the instructions are sparse and vague. i particularly had issues understanding the order of construction and the finishing of the sleeve facings.
What did you particularly like or dislike about the pattern?
basic, elegant style lines and the flared skirt.
Fabric Used:
liberty of london crepe-de-chine "minako" purchased on ebay.co.uk
Pattern alterations or any design changes you made:
i shortened the by folding it up from the waistline and re-drawing the gores to preserve the shape and flare. i added circumference to the bodice to accommodate my own size.
Would you sew it again? Would you recommend it to others?
definitely recommend a dress in this style as a 1950s classic that can easily be modernized–it's truly timeless.
full post at puu's door of time