I have been wanting to try sewing underwear for a while. Last time I bought some cotton ones with stretch lace at the store, the stretch lace ripped on every pair after the first wash. That ticked me off! I knew I could at least do better than that.
Well, I have come across several lingerie patterns and bra patterns in my thrifting, some of which I have kept, but it wasn't until two days ago that I happened upon some vintage undie patterns for 10 cents each. There were two patterns for me, and there was even one for my daughter, which I will have in the ready when she graduates from diapers.
So, today, I made these…
I used this 70s pattern…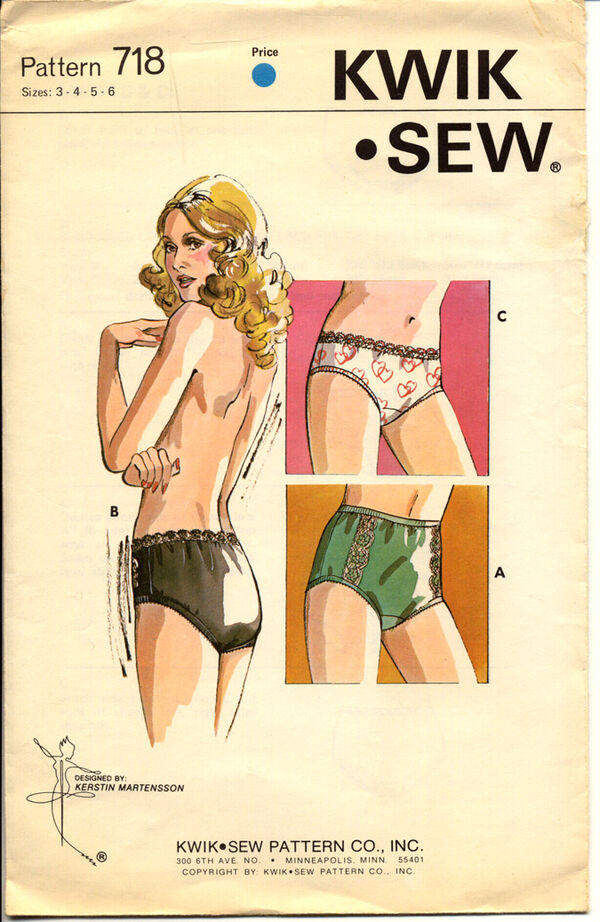 I went by the fabric store yesterday, and checked out the cotton knits. There were prettier patterns, but this is some of the softest cotton knit fabric I have ever touched. I also bought the stretch lace there- the selection was very limited. I had the lingerie elastic; I inherited it from Grandma's stash.
All in all, they cost me about $3.00, and they are not perfect (a first try!) but they are the Parthenon of underwear- by that I mean I think they will still be around in the next millenium. Who knew my machine had such an amazing and sturdy elastic stitch?
Sewing underwear is a whole new skill set for me. I actually did a sort of muslin (that I botched terribly) in order to get the elastic stitching down. It also required a lot of testing with various needles. I ended up switching between a small ball point for sewing the knit seams and a larger universal for the elastic.
I enjoyed learning to do the stretch lace cut outs. What does that say about me as a person? This is the kind of stuff I dig. Oh well. You just place it and stitch it on the front, and then cut the fabric off of the back close to your seam lines. It's pretty easy, but I can see how you could apply a similar technique on blouses and dresses for pretty details, say at the neckline.
These are practical undies, and they are a little granny-ish in the thigh area. That's ok with me, I like my undies a little on the granny side (T.M.I.?) but I may cut them higher in the thigh next time. The instructions were great, and helped me overcome my fear of stitching skivvies. I would definitely recommend this pattern to anyone who wants to give some drawers a try!