UPDATE:: I made up the dreaded muslin top. Not that I didn't trust my measurements (I totally did),  I just really didn't believe them. However, it fits. The size 10 dress was rocking a 7 inch ease. Yup, so now of course it's just a tad big, 2-3 inches is a good ease in fitted but 4 inches is just okay. the sleeves are long!! so I have to nip those in and then hem it ( i made the whole dress, ugh, I'm such an overachiever). It's still super rough, i didn't do anything with the seams but it was good practice. i think I'm still in awe of how much ease there is. i mean, 7 inches is bordering on wearing a grocery bag for a supposedly fitted dress. I will absolutely be making another in a finished form, it went together "sew easy"  just as it stated. I'm still not digging the gathered waist but it's growing on me.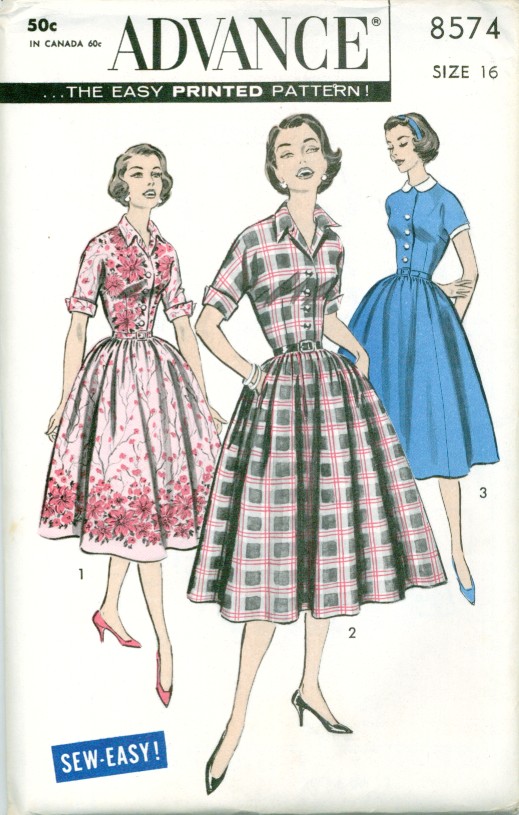 (http://vintagepatterns.wikia.com/wiki/Advance_8574)
Hey ya'll! I'm in need of some help. I'm just about to cut this pattern and I'm nervous. The pattern I have is a size 10 (31-24-33). The 24 inch waist is clearly not going to fit (but the breast part will sadly enough), but after measuring and taking into account the darts and lowering the SA to .5 inches from 5/8 inches, my 27 inch waist should have 4 inches of ease. Does this sound like it could be a possibility? The picture looks mighty fitted and I can't get over the fact that they inserted approximately 7 inches of ease in the original pattern for a 24 inch waist. Am I missing something in my measuring?
I measured the entire width of the one side of the bodice including the SA at the waistline.
Then took out the width for the dart and the .5″ for SA on each side then multiplied it by two to get a full bodice.
I did the same to the back then added  it to the front to get a total of 31 inches.
Voila right? Oy, I feel like a headache is coming on. And BTW I'm not going to make a muslin, I live dangerously.