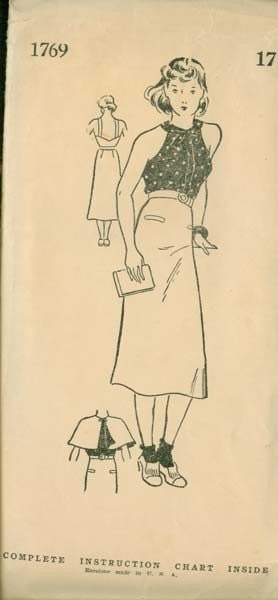 honest-to-goodness, one of my first vintage pattern purchases. call it one of the first 10. there's so much to love here, from the classic skirt to that gorgeous top with the ties to the little capelet. what really captured my fancy? the idea of styling it with little slouchy socks and loafers. weird, right?
i traced the pattern. poorly, because like so many vintage patterns, the directions are almost nonexistent and i didn't quite understand the way the pattern might fit together. the pattern has 3/8″ seam allowances, and that threw me off. it has an interesting center strip of fabric that seems to serve no purpose other than being decorative going down the front, and no directions on where, when or how to attach it during construction. the ties for the bow offer no guidance on whether they should be faced, finished with bias tape or given a narrow hem.
i attached the center stripe incorrectly and ended up with 2″ extra ease on each side, even though i had made a muslin. i was incredibly confused and actually had someone re-fit it for me so that i wouldn't cry and leave it on the UFO pile. also, the back ripped after a few wearings–probably because it didn't appreciate my lack of reinforcement on the slight dip in the center back of the blouse. hence, this (as worn and styled today, not my original construction of 18 months ago):
i think it's pretty fun:
other variations have followed. somehow, though, i can't quite fix the fitting issues i have on this blouse. i always need to add an extra take-in on the side seams, almost like an extra dart, as you can see here, where i forgot to add them in my joy of being finished:
but you can also see how much i have perfected my construction and finishing of the blouse–look at how nice those ties tie.
and i've finally started to embrace that center stripe and have some fun with it.

meanwhile, you can see i have yet to style it with the long, thin skirt, slouchy socks and loafers.  maybe this year…
full post at puu's door of time.