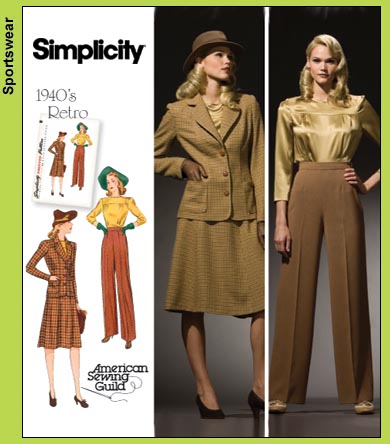 Pattern Description:
Misses or Plus Size Blouse, Skirt, Pants & Lined Jacket: Retro 1940's
i made the blouse and the skirt.
Pattern Sizing:
AA – 10/12/14/16
i cut a 10.
Did it look like the photo/drawing on the pattern envelope once you were done sewing with it?
yes
Were the instructions easy to follow?
yes
What did you particularly like or dislike about the pattern?
i loved this blouse pattern, and i loved making it–but i think i hate the way it looks finished! also, while doing bias neck binding is usually a great idea, with my fabric it was a no-go. instead, i folded the seams over (almost like a flat fell) and sewed them at the neck, arms and hem.
skirt pattern, as others have mentioned, is a simple joy. it's a nice shape and easy to put together, and because of the waistband, it's easy to draft and add a lining. nothing fancy on the skirt constructions, although i did end up doing french seams on the silk lining just for fun. lace trim on the bottom.
Fabric Used:
blouse – silk charmeuse, Mood fabrics, NYC
skirt – herringbone wool, Mood fabrics, NYC
skirt lining – China silk, Mood fabrics, NYC
Pattern alterations or any design changes you made:
N/A
Would you sew it again? Would you recommend it to others?

i do plan on trying the trousers, and there is always a chance i will do the skirt again, but the blouse is just so unflattering and unwearable on me that i can't picture giving it another try.
Conclusion:
it's a great way to explore vintage styles and patterns without committing to an actual vintage pattern, which may have complications like old-fashioned sizing, minimal instructions, or unprinted pattern pieces.
more pain, plus skirt: